Zynq 7000 Reference Design using PMIC Module
The MPS Reference design for the AMD Xilinx Zynq-7000 SoC is centered around MPM54304 Quad PMIC module with 4 outputs (3A/3A/2A/2A) and two LDO regulators to provide all power rails to Zynq SoC. MPM54304 outputs can be paralleled for design flexibility and it includes built-in power sequencing. This design can operate from a 4V-16V input supply.
Features
Small Footprint: 0.4sq inches.

MPM54304, 3A/3A/2A/2A, 16V DC/DC in 7x7 LGA-33

MPM54304 provides internal (Factory programmable) Power Sequencing

MP20073 VTT Regulator, up to 2A sink/source, MSOP-8 package

MP20043 Dual 300mA LDO Regulator, 2x2 QFN package, 75dB PSRR, 7uV low noise output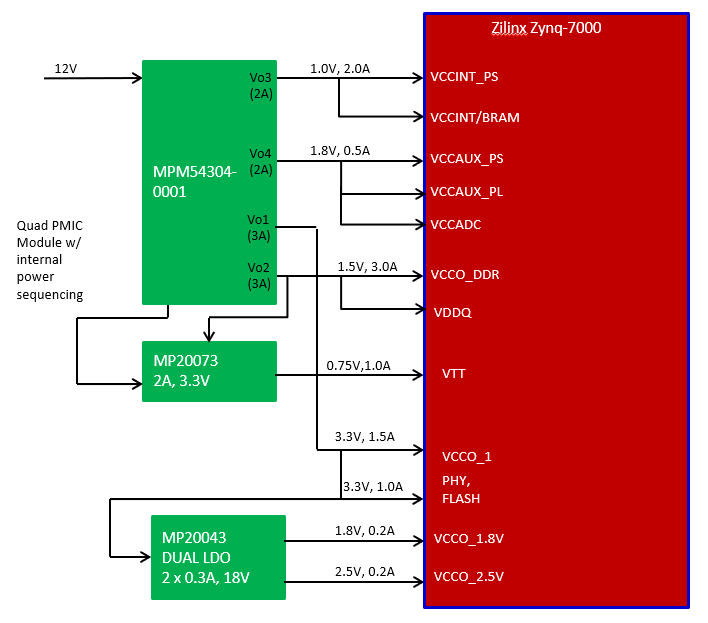 MPS Products Used
Part Number

Quantity

Description

MPM54304-0001

1

4V to 16V Input, Quad 3A, 3A, 2A, 2A Output Power Module with I2C and MTP in Ultra-Thin LGA Package

MP20073

1

2A, DDR Termination Regulator

.
MP20043

1

Dual Channel, 300mA Linear Regulator With Programmable Output Voltage and Output Discharge

.