16V, 30A, Scalable, Digital, Synchronous Step-Down Converter with PMBus
Description
The MP8796B is a fully integrated, PMBuscompatible, high-frequency, synchronous buck converter. The MP8796B offers a very compact solution that achieves up to 30A of output current per phase with excellent load and line regulation over a wide input supply range. The MP8796B operates at high efficiency over a wide output current load range.
The PMBus interface provides converter configurations and key parameter monitoring.
The MP8796B adopts MPS's proprietary, multiphase constant-on-time (MCOT) control, which provides fast transient response and eases loop stabilization. The MCOT control scheme also allows multiple MP8796B devices to be connected in parallel with excellent current sharing and phase interleaving for high-current applications.
Fully integrated protection features include over-current protection (OCP), over-voltage protection (OVP), under-voltage protection (UVP), and over-temperature protection (OTP).
The MP8796B requires a minimal number of readily available, standard external components, and is available in a TQFN-25 (4mmx5mm) package.
Show more

Show less
Features & Benefits
PMBus 1.3 Compliant
Scalable Multi-Phase Operation
3.1V to 16V with External 3.3V VCC Bias, 4V to 16V with Internal Bias or External 3.3V VCC Bias
30A Continuous Output Current per Phase
Low RDS(ON) Integrated Power MOSFETs
Lossless, Accurate On-Die Current Sensing
Adaptive COT for Ultra-Fast Transient Response
Stable with Zero-ESR Output Capacitors
0.5% Reference Voltage Over 0°C to +70°C Junction Temperature Range
Output Voltage True Remote Sense
Output Adjustable from 0.4V to 0.9 x VIN Up to 5.5V Max
Output Voltage/Current, Input Voltage, and Junction Temperature Reporting
Built-In MTP to Store Custom Configurations
Configurable via PMBus
Output Voltage
Output Current Limit
Selection of Pulse Skip or Forced CCM Operation
Soft-Start Time
Selection of Switching Frequency from
400kHz, 600kHz, 800kHz, or 1000kHz Selection of Hiccup or Latch-Off Mode for OCP, OVP, and OTP
Ramp Compensation
Available in a TQFN-25 (4mmx5mm) Package
Show more
Show less

Active Part Numbers:
MP8796BGVT- xxxx MP8796BGVT - 0000
Evaluation Tools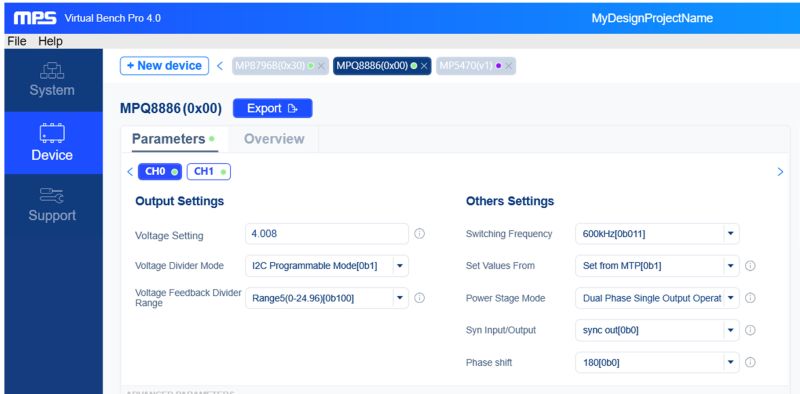 Virtual Bench Pro 4.0 Evaluation Kit Graphical User Interface (GUI) Supported by MPS Used to Configure and Monitor Multiple MPS Digital Power Solutions with an I2C Interface
The Virtual Bench Pro 4.0 is a Graphical User Interface (GUI) supported by MPS used to configure and monitor multiple MPS digital power solutions with an I2C Interface. This GUI is an intuitive tool that can be used with MPS evaluation kits and helps assist in the evaluation and in the testing phases of your design.
Hardware & Software Requirements:
USB to I2C Communication Device EVKT-USBI2C-02
PC running Window 7 or later
.Net Framework 4.0 or later
Features:
Support PMBus open standard protocol. Common commands such as setting the output, switching frequency, etc
Provide tips for the parameter configuration of the digital power solution
Monitor real-time data and displayed values by the GUI such as:

Input voltage
Output voltage
Output current
Temperature
Warnings and fault

Waveforms of the main signals
Automatically detected MPS digital power solutions
Evaluate MPS devices in an offline mode (with no hardware present)
Allow you to see the most recent programmed parameters through the Log Panel
Access to MPS Now platform to contact our product experts