Reference Design: AMD Xilinx Zynq 7000 Industrial Ethernet Board

For more information on reference designs
Response within 2 business days
The MPS Industrial Ethernet Reference design for the AMD Xilinx Zynq-7000 SoC combines a small footprint with good efficiency and tight regulation. Three MPM3630 3 amp buck modules combine with an MPM3610 1 amp buck module and two LDO regulators to provide power rails to the Zynq SoC. The output rails are from 0.75V to 3.3V, from a 12V input supply.
Features
Small Footprint: 0.45sq inches.

MPM3630, 3A, 18V DC/DC in 3x5 QFN

MPM3610A, 1.0A, 21V DC/DC in 3x5mm QFN

Module solutions, include inductor with DC/DC Converter

Efficiency = 78% (12V to 1.0V/2A)

+/-4% DC accuracy, -40 to +125ºC, including feedback resistors

Effective Sequencing gated by Power Good and Enable signals

MP20073 VTT Regulator, up to 2A sink/source, MSOP-8 package

MP20043 Dual 300mA LDO Regulator, 2x2 QFN package, 75dB PSRR, 7uV low noise output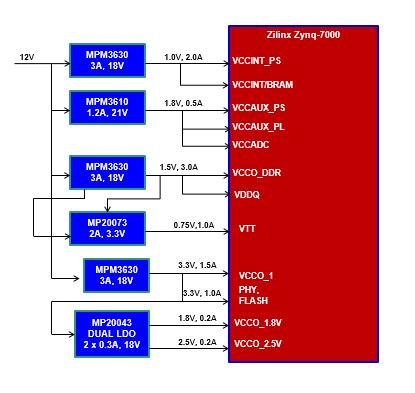 Block diagram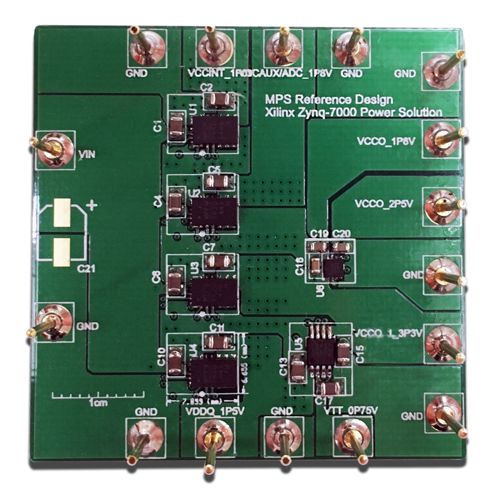 MPS Products Used
Part Number

Quantity

Description

MPM3630

3

3A, 18V, High-Efficiency, Step-Down Regulator Module with Integrated Inductor and Power Good

MPM3610A

1

Synchronous rectified, step-down module converter with built-in power MOSFETs, inductor, and two capacitors.

MP20073

1

The VTT-LDO is a 2A sink/source tracking termination regulator. Specifically designed for low-cost/low-external component count systems, where space is a premium.

MP20043

1

Dual-channel, low noise, low dropout and high PSRR linear regulator with programmable output voltage.