Telecom and Server Power Solutions
MPS telecom and server power solutions are engineered to perform in always-on and harsh operating environments required by the applications.
Step-Down Buck: Solutions passing rigorous testing to ensure confident usage in challenging environments.
Efuse: Leveraging proprietary process to integrate key components in a single package.
Controller: Products designed to eliminate labor intensive system fine tuning.
Intelli-Phase: Best-in-class high efficiency and power density.
Automotive application ready


Excellent thermal performance


Reduces space requirements


Server and Telecom Articles
Featured Telecom and Server Part
The MP5023 is a hot-swap protection device designed to protect circuitry on its output from transients on its input. The MP5023 also protects its input from undesired shorts and transients coming from its output.

During start-up, inrush current is limited by the slew rate at the output. The slew rate is controlled by the external capacitor at SS.

The maximum load at the output is current-limited through on-die current sense technology. The magnitude of the current limit is controlled by a low-power resistor from ISET to ground.

An internal charge pump drives the gate of the power device, allowing for a power MOSFET with a very low on resistance of 1.1mΩ.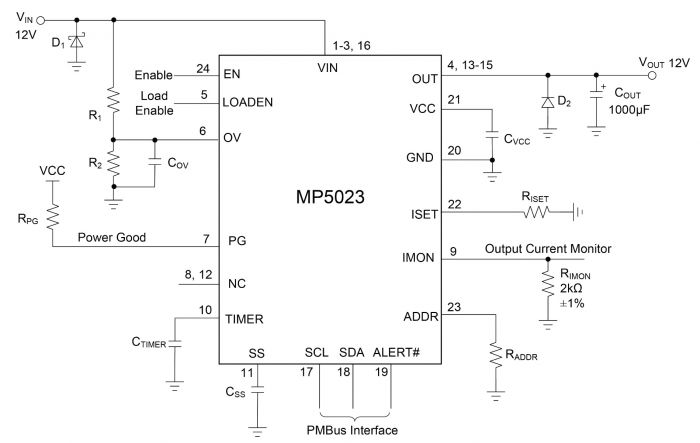 MP5023