8-Bit, Contactless, Angle Encoder with PWM Output and Push Button Function
Description
The MagAlpha MA850 is a simple-to-use magnetic angle encoder designed to replace analog potentiometers or rotary switches. The sensor detects the absolute angular position of a permanent magnet attached to a rotating shaft and outputs a PWM waveform with 8-bit resolution.

The user has wide flexibility in terms of magnet shapes and configurations. Typically, the MA850 is used with a diametrically magnetized cylinder of 3mm to 8mm in diameter.

The MA850 features programmable magnetic field strength thresholds which allow implementation of a push or pull button function. When triggered, these are readable as register bits and also output as two logic signals.

On-chip non-volatile memory provides storage for configuration parameters including the reference zero angle position and the magnetic field detection threshold settings.
Show more

Show less
Features & Benefits
8-Bit Resolution Absolute Angle Encoder
Contactless Sensing for Long Life with No Wear
SPI Serial Interface for Chip Configuration
Programmable Magnetic Field Strength Detection for Push/Pull Button Detection
3.3V, 12mA Supply
PWM Output
-40 to +125°C Operating Temperature
Available in a QFN-16 (3mmx3mm) Package
Additional Resources
AppNote: Selecting the Right Magnet
AppNote: Sense BLDC Rotor Position
Show more
Show less

Evaluation Tools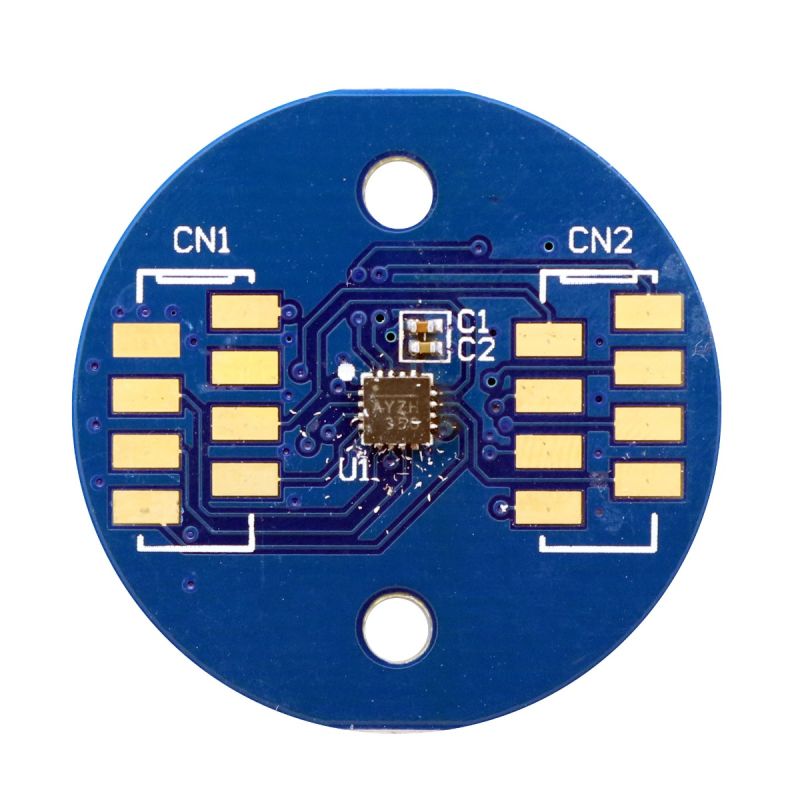 TBMA850-Q-RD-01A Evaluation Kit Round Evaluation Board for the MA850
The TBMA850-Q-RD-01A is the round evaluation board for the MA850 MagAlpha magnetic position sensor. This configuration is used for end-of-shaft sensing.
It requires the EVKT-MACOM communication kit and the Macom App Software to evaluate MagAlpha functionality and performance with the set-up, such as noise level, refresh rate, start-up time, and magnetic field dependence.
In addition to this round (RD) evaluation board, there is a long format (LT) version, in which the sensor is mounted on the edge of the board and can therefore be used in both side-shaft and end-of-shaft configurations.
TBMA850-Q-LT-01A
Long Evaluation Board for the MA850
Macom App Software
Windows Desktop Application + Drivers for the MagAlpha Communication Kit.