8-Bit Contactless Angle Encoder with ABZ Output and Push Button Function
Description
The MA820 is an easy-to-use, magnetic, angle encoder designed to replace analogic potentiometers or rotary switches. In contrast to most other MagAlpha parts, the MA8XX series is targeted towards human-machine interface applications rotating at a maximum of 200 rpm. The sensor detects the absolute angular position of a permanent magnet attached to a rotating shaft and outputs incremental ABZ encoder data. The number of pulses per channel for each A or B output is programmable from 1 to 64 via an SPI interface.

Magnet shapes and configurations are very flexible. Typically, the MA820 is used with a diametrically magnetized cylinder of 2 - 8mm in diameter.

The MA820 features programmable magnetic field strength thresholds, which allow for the implementation of a push or pull button function. These are output as two logic signals.

On-chip non-volatile memory provides storage for configuration parameters, including the reference zero angle position, ABZ pulses per channel, and magnetic field detection threshold settings.
Show more

Show less
Features & Benefits
8-Bit Resolution Absolute Angle Encoder
Contactless Sensing for Long Life with No Wear
SPI Serial Interface for Chip Configuration
Incremental ABZ Encoder Interface with 1-64 Programmable Pulses Per Channel
Programmable Magnetic Field Strength Detection for Push/Pull Button Detection
3.3V, 11mA Supply
-40 to +125°C Operating Temperature
Available in a QFN-16 (3mmx3mm) Package
Show more
Show less

Evaluation Tools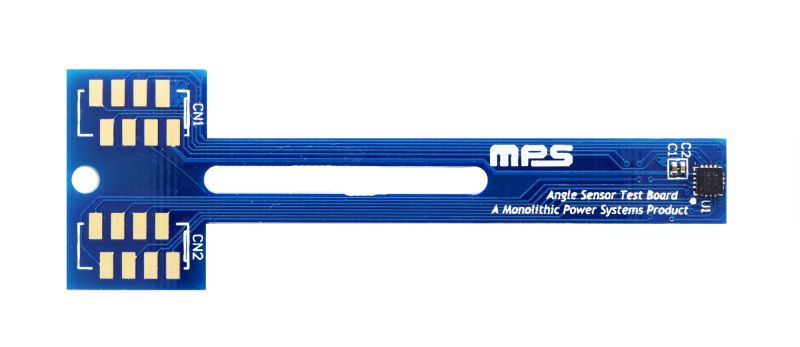 TBMA820-Q-LT-01A Evaluation Kit Long Evaluation Board for the MA820
The TBMA820-Q-LT-01A is the long evaluation board for the MA820 MagAlpha magnetic position sensor. The sensor is mounted on the edge of the board, and can therefore be used in both side-shaft and end-of-shaft configurations.
It requires the EVKT-MACOM communication kit and the Macom App Software to evaluate MagAlpha functionality and performance with the set-up, such as noise level, refresh rate, start-up time, and magnetic field dependence.
In addition to this long (LT) evaluation board, there is a round format (RD) version, in which the sensor is mounted in the center of the board for end-of-shaft configurations.
TBMA820-Q-RD-01A
Round Evaluation Board for the MA820
Macom App Software
Windows Desktop Application + Drivers for the MagAlpha Communication Kit.