Angular Position Sensors
MPS Sensors provide revolutionary performance and versatility for all types of motion control or position sensing applications.
Calibration Free: High Accuracy Up to 14 Bit Angle Sensing
Low Latency: Up to 100,000 RPM
End-of-Shaft or Side-Shaft
Small Package: QFN-16 3x3 or QFN-14 2x2
The MPS MagAlpha Family
The MPS MagAlpha family of magnetic angle position sensors offers a revolutionary way to measure angles. The MagAlpha range offers unique performance advantages compared to rival magnetic sensing technologies.
MagAlpha sensors use the patented SpinAxisTM Hall measurement technique that provides instantaneous angle position in a digital format. SpinAxisTM uses a phase detection approach that eliminates any need for analog to digital conversion or complex angle calculation used by more traditional technologies.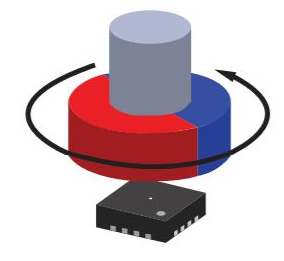 Sensor Articles
VIEW ALL