Sensors
MPS Sensors provide revolutionary performance and versatility for all types of motion control or position sensing applications.

Angle Sensing: Up to 14 Bit of Resolution

Isolated Current Sensing
MPS advanced Hall sensor technology enables us to create advanced products for position and current sensing applications.
The MagAlpha family of magnetic angle sensors offers a revolutionary way to measure rotary angles for position or speed control. Resolutions up to 14 bit are supported in a variety of output formats including SPI, SSI, ABZ, PWM and UVW. Very low angle capture latency allows support for high rotation speeds.
MPS Hall effect-based linear current sensors provide a high efficiency way to sense and manage currents in applications such as motor control, switched-mode power supplies, solar inverters, and general power management. Galvanic isolation for up to 2400V and current ranges from 5 to 50A are supported.
The World's Smallest Absolute ICEncoder®
MA782: An SoC in a ultra-small 2mm x 2mm x 0.6mm package
Using our proprietary SpinAxis™ Hall Sensor Technology, this encoder provides true absolute position data and can be used on-axis, side axis and side axis orthogonal applications. Some potential applications include products requiring low average power consumption, such as battery-powered devices, IoT, HMI, and space-constrained applications such as extremely small motors or mechatronic systems.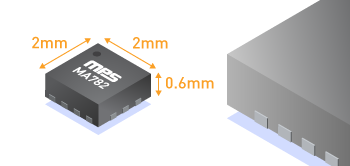 Learn more about the MA782

Current Sensor Spotlight
MCS1803: Hall Effect-Based Linear Current Sensor for AC & DC Current Sensing
The MCS1803 requires a minimum number of readily available, standard external components. It is available in a SOIC-8 package. This small footprint saves board area and is ideal for space-constrained applications such as inverters, power monitoring, and distribution units.
Learn more about the MCS1803

Sensor Application Notes
Sensor Solutions Product Selector Guide
The MagAlpha family of magnetic angle position sensors offers unique performance advantages with a robust simple setup, less environmental impact, and programmability. This comprehensive guide will help you when choosing a suitable MPS Sensor product for your specific application.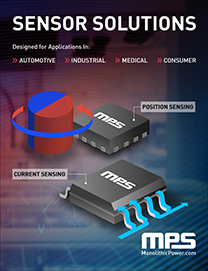 DOWNLOAD THE GUIDE