Description
The MPM3690-30 is a dual 18A or single 36A output power module, which offers a complete power solution with excellent load and line regulation. The MPM3690-30 supports an input voltage (VIN) between 4V and 16V, as well as an output voltage (VOUT) between 0.6V and 3.3V. The voltage of the MPM3690-30's two outputs can be set separately with a single resistor per output.
The MPM3690-30 offers two configurations: The MPM3690-30A has a dual 18A output, and the MPM3690-30B has a single 36A output. The MPM3690-30 is also pin-compatible with the MPM3690-20A/B (dual 13A or single 26A) and the MPM3690-50A/B (dual 25A or single 50A) power modules. The MPM3690-30 adopts MPS's proprietary, multi-phase, constant-on-time (MCOT) control, which provides ultra-fast transient response and minimizes the output capacitance.
The MPM3690-30 integrates a monolithic DC/DC converter, power inductor, and other passive components. It is available in a BGA (16mmx16mmx5.18mm) package.
Show more

Show less
Features & Benefits
Pin-Compatible Dual 18A and Single 36A Output Power Modules:

MPM3690-30A Dual 18A
MPM3690-30B Single 36A

4V to 16V VIN Range
3.2V to 16V VIN Range with External 3.3V VCC Bias
0.6V to 3.3V VOUT Range
Ultra-Fast Transient Enabled by Constant-On-Time (COT) Control
Adjustable Switching Frequency (fSW)
Adjustable Soft-Start Time (tSS)
Over-Current Protection (OCP) and Over-Voltage Protection (OVP)
Differential Remote Sense for Both Output Channels
Pin Compatible with the MPM3690-20 and MPM3695-50
Available in a BGA (16mmx16mmx5.18mm) Package
Show more
Show less

Evaluation Tools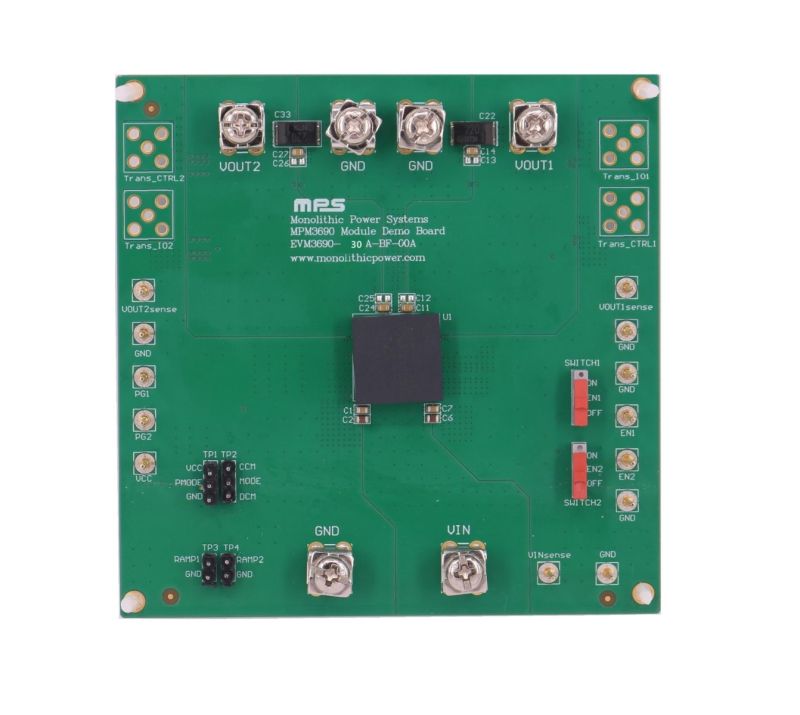 EVM3690-30A-BF-00A Evaluation Kit 16V, Dual 18A, High-Efficiency, Synchronous Step-Down Module Evaluation Board
The EVM3690-30A-BF-00A evaluation board is designed to demonstrate the capabilities of the MPM3690-30A, a fully integrated, high-efficiency, synchronous, dual 18A output current (IOUT), step-down power module.
The MPM3690-30A adopts internally compensated constant-on-time (COT) control to provide fast transient response and ease loop stabilization. The operating frequency can be set between 400kHz and 1MHz by connecting a resistor between fSET and AGND. Refer to the MPM3690-30A datasheet for more detailed information.
It is recommended to read the datasheet for the MPM3690-30A prior to making any changes to the EVM3690-30A-BF-00A.
MPM3690GBF-30B
16V, 36A, Single DC/DC Power Module