Power Management Solutions
Industry Leading Performance
Industry Leading Performance
Our DC-DC power converters insure your devices dc power conversion is accurate, stable, low noise, low EMI, low ripple, and efficient while requiring minimal component count and cost. Our dc power converters are available in a wide variety of configurations, including step-down (buck), step-up (boost), and step-down/step-up (buck/boost). Our cutting-edge, cost-effective dc dc power converters are used for industrial, automotive, telecom infrastructures, storage, networking, cloud computing, IOT, and high-end consumer applications.
Power Management Videos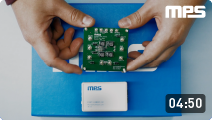 MP5470: Unboxing and Getting Started
Unboxing and getting started with the MP5470, a power management IC with four buck converters and configurable settings.