Description
The MP023 is an offline, primary-side controller that provides accurate, constant voltage and constant current regulation without the need of an optocoupler or secondary feedback circuit. It uses an integrated 700V current source to achieve quick start-up.

The MP023's variable off-time control allows its flyback converter to operate in discontinuous conduction mode (DCM). The MP023's current limit and maximum secondary duty cycle are programmable, making the output current easily set. The FB voltage sensing point is also programmable and is able to set different switching frequencies.

The internal high-voltage start-up current source and power-saving technologies limit the no-load power consumption to less than 30mW. Full protection features include VCC under-voltage lockout (UVLO), overload protection (OLP), over-temperature protection (OTP), open loop protection (OCkP), and over-voltage protection (OVP).
The MP023's variable switching frequency method provides a natural spectrum for shaping a smooth EMI signature, which is suitable for offline, low-power battery chargers and adapters.

The MP023 requires a minimal number of readily available, standard, external components and is available in a SOIC8-7A package.
Show more

Show less
Features & Benefits
Primary-Side Control without Optocoupler or Secondary Feedback Circuit
Precise Constant Current and Constant Voltage Control (CC/CV)
Variable Off-Time Peak Current Control
700V High-Voltage Current Source
20mW No-Load Power Consumption
Programmable Cable Compensation
Programmable Current Limit and Maximum Secondary Duty Cycle
Programmable FB Voltage Sensing Point
Multiple Protection Features: OVP, OCkP, OLP, OTP, VCC UVLO
Low Cost and Simple External Circuit
Available in a SOIC8-7A Package
Show more
Show less

Evaluation Tools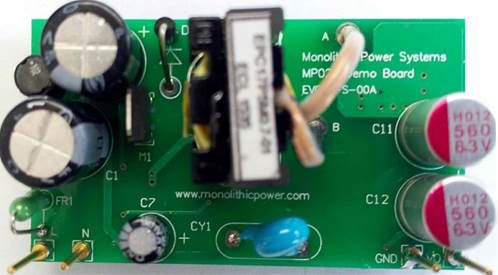 EV023-S-00A Evaluation Kit 85VAC~265VAC/50Hz, 5V/2.4A, Off-line Primary-side-Controller, Cell phone Charger Evaluation Board
The EV023-S-00A Evaluation Board is designed to demonstrate the capabilities of MP023. The MP023 is a primary-side-control controller which can eliminates secondary feedback components.
The EV023-S-00A is typically designed for cell phone which output 5V, 2.4A load from 85VAC to 265VAC, 50HZ/60HZ.
The EV023-S-00A has an excellent efficiency and EN55022 conducted EMI requirements. It has multi-protection function as open circuit protection, short-circuit protection, cycle by cycle current limit and over-temperature protection, etc.