Description
The MP020A-5 is an offline, primary-side regulator that provides accurate constant voltage and constant current regulation without an optocoupler or a secondary feedback circuit. The MP020A-5 has an integrated 700V MOSFET.

The MP020A-5's variable off-time control allows a flyback converter to operate in discontinuous conduction mode (DCM). The MP020A-5 also features protection functions such as VCC under-voltage lockout (UVLO), over-current protection (OCP), over-temperature protection (OTP), open-circuit protection (OCkP), and over-voltage protection (OVP). Its internal high-voltage start-up current source and power-saving technologies limit the no-load power consumption to less than 30mW.

The MP020A-5's variable switching frequency technology provides natural spectrum shaping to smooth the EMI signature, making it suitable for offline, low-power battery chargers and adapters.

The MP020A-5 is available in a SOIC8-7A package.
Show more

Show less
Features & Benefits
Primary-Side Control without Optocoupler or Secondary Feedback Circuit
Precise Constant Current and Constant Voltage Control (CC/CV)
Integrated 700V MOSFET with Minimal External Components
Variable Off Time, Peak-Current Control
550µA High-Voltage Current Source
30mW No-Load Power Consumption
Programmable Cable Compensation
OVP, OCP, OCkP, OTP, and VCC UVLO
Natural Spectrum Shaping for Improved EMI Signature
Low Cost and Simple External Circuit
Available in a SOIC8-7A Package
Show more
Show less

Active Part Numbers:
MP020A-5GS-Z MP020A-5GS-P
Part numbers ending in P and Z are the same parts. P and Z only indicates reel size.
Meaning of P & Z

Evaluation Tools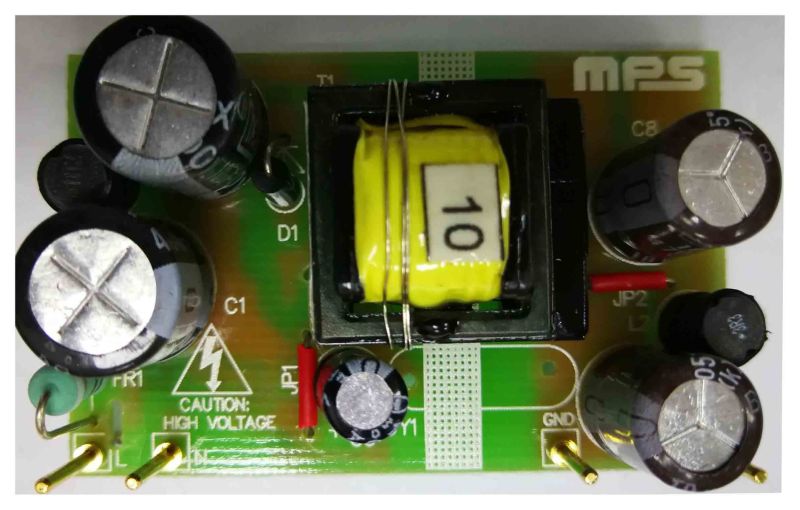 EV020A-5-S-00A Evaluation Kit 85VAC~265VAC/50Hz, 5V/1A Off-line Primary-side-Regulator Cell phone ChargerEvaluation Board
The EV020A-5-S-00AEvaluation Board is designed to demonstrate the capabilities of MP020A-5. The MP020A-5 is a primary-side-control regulator which can eliminates secondary feedback components.
The EV020A-5-S-00A is typically designed for cell phone which output 5V, 1A load from 85VAC to 265VAC, 50HZ/60HZ.
The EV020A-5-S-00A has an excellent efficiency and meets IEC61000-4-5 surge immunity and EN55022 conducted EMI requirements. It has multi-protection function as open circuit protection, short-circuit protection, cycle by cycle current limit and over-temperature protection, etc.
EV020A-5-S-00B
85VAC~265VAC/50Hz, 12V/0.7A Off-line Primary-Side-Regulator Home Appliances Evaluation Board
EV020A-5-S-01B
85VAC~265VAC/50Hz, 12V/0.65A,5V/50mA Off-line Primary-Side-Regulator Home Appliances Evaluation Board