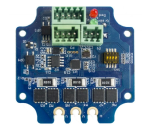 Complete PCB Assembly
Position Sensing, Power Stage, and FOC Algorithms
Cost Advantage Over Optical Encoder Based Servo Motors


Video: eMotion System Smart Motors




This video introduces the product features and benefits of the eMotion System Smart Motor Solution.

MPS motor driver modules are complete PCB assembly solutions that incorporate position sensor, driver power stage, and field orientated control algorithms for integration into brushless motors. The integrated field oriented control and precise magnetic angle sensor give the ability to control torque, speed, or position without having to develop complex motor control firmware. The modules can be installed into 42 or 57mm BLDC NEMA format motors. Motor position feedback is integrated directly into the motor control loop using MPS's patented MagAlpha magnetic angular position sensor technology. Motor control and parameterization is facilitated through an RS485 interface using a provided software GUI.