Motor Drivers & Motor Controllers
Motor Drivers & Motor Controllers
MPS motor driver & motor controller solutions offer a wide range of high-performance, cost-effective, and reliable solutions for stepper motor drivers, brushless DC motor drivers, position sensors, DC brush motor drivers, and solenoid drivers. Using industry leading semiconductor process and advanced packaging technologies, MPS motor drivers achieve the highest efficiency, best thermal performance, and smallest solution size.
Integrated designs utilizing proprietary packaging technology
Thermal perfomance with DMOS technology
Revolutionary speed and positioning sensing
Proprietary packaging technology


Proprietary DMOS technology


Revolutionary speed
& position sensing
Motor Driver & Motor Controller Articles and Application Notes
Featured Motor Driver Part
The MP6500 is a stepper motor driver with a built-in translator and current regulation. Current sensing is internal, requiring no external sense resistors. High integration and a small QFN package make the MP6500 a space-saving and cost-effective solution for bipolar stepper motor drives. The MP6500 operates from a supply voltage of up to 35V and can deliver motor current up to 2.5A, depending on the package and thermal conditions. The MP6500 can operate a bipolar stepper motor in full-, half-, quarter-, or eighth-step modes. Internal safety features include over-current protection (OCP), input over-voltage protection (OVP), under-voltage lockout (UVLO), and thermal shutdown. The MP6500 is available in QFN-24 (5mmx5mm) and TSSOP-28 EP packages.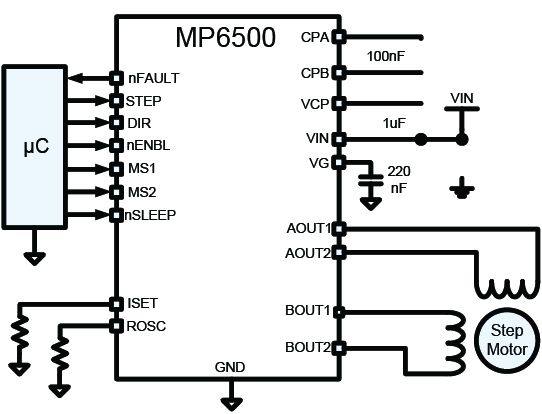 MP6500