Power Modules
MPS Power Modules offer superior performance and size advantages when compared to other industry leading solution. The monolithic design allows for faster switching frequency, which leads to ultra fast transient response and size reduction. Our high efficiency and advanced packaging make thermal design easy.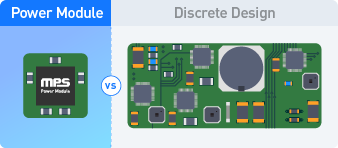 Small Size & Ease of Use

Minimal extrenal components

Easy layout

Fast design cycle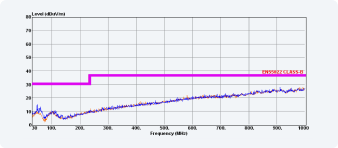 Low EMI

Meets EN55022 Class B

EMI standard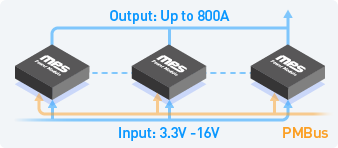 Scalability & Programmability

I2C & MTP

Graphic user interface available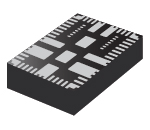 Encapsulated Module with Integrated Inductor

Configurable Vout, Iout to Your Needs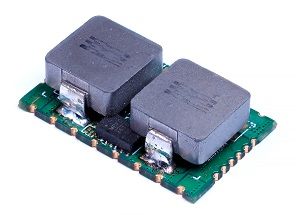 Open Frame Modules with Integrated Inductor & Passives
MPS Power Modules have a wide range of Vin and Iout with a variety of packages. Our extensive portfolio of DC DC modules integrate inductors, FETs, compensation and other passive compoents into a single package to simplify the design process.

Module of the Month
High Input, Ultra Small, Ultra Low EMI Module
The MPM3550E is a high-density, non-isolated, DC/DC power module for space-sensitive applications. The module offers a very compact solution that achieves 5A of continuous output current with fast transient and good stability over a wide input supply and load range. The MPM3550E can provide an adjustable output voltage from 1.0 - 12.0V via an external FB resistor (default 3.3V output). Ultra-high efficiency is achieved through the use of synchronous rectification and control techniques.
The MPM3550E offers standard features, including an internal fixed soft start, remote enable control, and power good indicator. The MPM3550E has fully integrated protection features, including over-current protection (OCP), short-circuit protection (SCP), output under-voltage protection (UVP), input under-voltage lockout (UVLO), and thermal shutdown.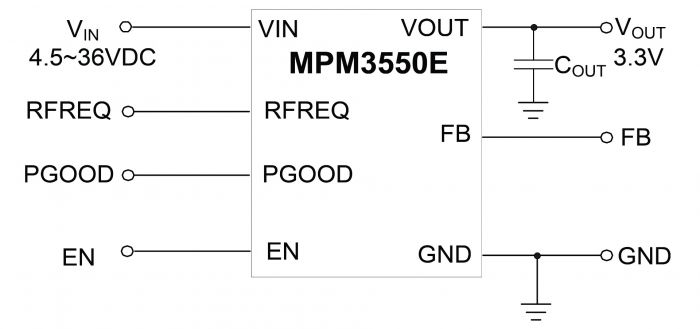 MPM3550E

eBook: From Prototyping to Production
Modules Accelerate the Power Design Process
The electronics industry is evolving and these changes are having a big effect on the power design market. Design engineers are now seeing how modules can provide benefits over traditional discrete designs. Modules from Monolithic Power Solutions (MPS) can further add to the competitive advantages of power modules, such as ease of design, cost effectiveness, efficiency and size, with the additional benefits of higher performance from the company's own market-leading ICs, higher modular integration leading to easier PCB layouts, and drop-in solutions that require no design work.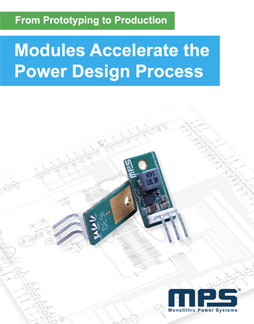 DOWNLOAD EBOOK

Power Module Family
MPS power modules are ultra-efficient and easy-to-use. The modules integrate the maximum number of components, including the inductor, in a single package while still providing comprehensive flexibility for the designer to configure the device's attributes. This accelerates the design process and helps bring products to market faster. Our modules are used by the largest OEMs worldwide for Industrial, IoT, Auto, Medical, Telecom, Robotics, and more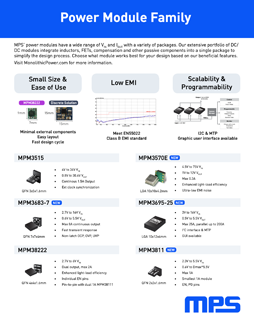 DOWNLOAD BROCHURE

Power Module Solutions for FPGA
FPGA Series

PGA Part Numbers

EVB#

Virtex Ultrascale+
VU11P, VU13P
EVREF0104-A
VUP5, VU7P, VU9P,VU35P, VU37P
EVREF0104-B
VU3P, VU31P, VU33P
EVREF0104-C
Kintex Ultrascale+
KU13P, KU15P
EVREF0103-A
KU3P, KU5P, KU9P, KU11P
EVREF0103-B
Zynq Ultrascale+ MPSoC
ZU9CG, ZU9EG, ZU11EG-ZU19EG
EVREF0101-A
ZU3CG to ZU7EV
EVREF0101-B
Zynq 7000
XC7Z0007S to ZC7Z020, XC7Z030
EVREF0100-A
Zynq Ultrascale+ RFSoC
ZU21DR to ZU29DR
EVREF0100-B