5V to 20V, USB PD, 2-Cell, 6A Dual-Phase NVDC Buck-Boost Charger with Integrated FETs and OTG
Description
The MP2762A is a highly integrated buck or boost charger IC with narrow voltage DC (NVDC) power path management and USB On-the-Go (OTG) for battery packs with two cells in series. All power MOSFETs are integrated to provide a compact system solution size.
The IC can accept a wide range of input voltages for charging, with a maximum of 21V. The device has two operating modes during the charging process: boost charging mode when the input voltage is below 5.75V, and buck charging mode when the input voltage exceeds 8.5V.
With the I2C interface, the MP2762A can be flexibly configured to set the parameters in both charging mode and OTG mode. Parameters include the input current limit, input voltage limit, charging current, battery-full voltage, and safety charge timer. It can also provide the operation status through status and fault registers.
To guarantee safe operation, the IC limits the die temperature to a preset value of 120°C. Other safety features include input over-voltage protection (OVP), battery OVP, system OVP, thermal shutdown, battery temperature protection, and a configured timer to prevent prolonged charging of a dead battery.
To comply with IMVP8 specifications, the IC provides three analog output pins for system power (PSYS), input current (IAM), and battery current (IBM). It also has a processor hot indication pin (PROCHOT) for system power control.
The NVDC power path management regulates the system voltage within a narrow DC range to provide an optimized system bus voltage for the rails at the system bus. With this feature, the system can continue operating even when the battery is completely depleted or removed.
The MP2762A is available in a QFN-30 (4mmx5mm) package.
Advantages Include:
Fully integrated NVDC power path with up to 6A charge current for a 2-cell battery
Support for dual-phase operation to allow using 1.0mm height inductors
I2C programmable for all charging parameters
Compact BOM size with all power FETs integrated
Input current and battery current monitor via IAM/IBM pin
Integrated 10-bit ADC
Up to 5V/3A USB OTG
Compact QFN-30 (4mmx5mm) solution size
Show more

Show less
Features & Benefits
Buck

or

Boost Charger for 2 Cells in Series Battery Pack
Up to 28V (20ns) Sustainable Input Voltage
Dual-Phase Interleaving in Buck Charge Mode
Programmable Input Voltage Limit
Up to 6A Programmable Input Current Limit
Up to 6A Programmable Charge Current
Programmable Battery-Full Voltage Up to 9V
Support for 5V, 9V, 12V, 15V, and 20V USB PD Voltage Levels
600kHz, 800kHz, 1MHz Programmable Switching Frequency for Each Phase
Input Power Source Status Indication Pin
I2C Interface to Support Flexible Parameter Control
Comprehensive Fault and Status Report Register
Available in a QFN-30 (4mmx5mm) Package
Show more
Show less

Active Part Numbers:
MP2762AGV-xxxx-Z MP2762AGV-xxxx-P MP2762AGV-0000-Z MP2762AGV-0000-P
Part numbers ending in P and Z are the same parts. P and Z only indicates reel size.
Meaning of P & Z

Evaluation Tools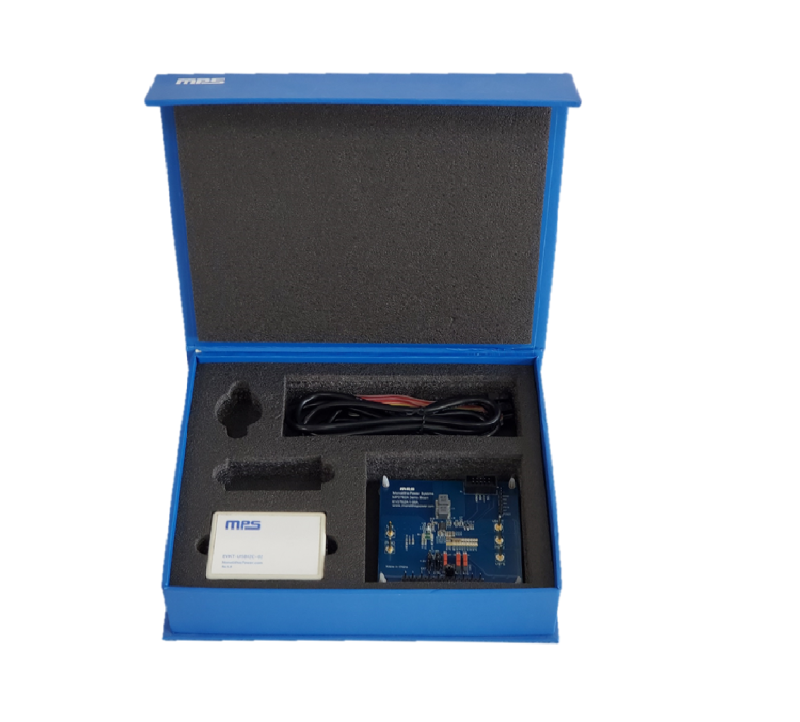 EV2762A-V-00A
6A Buck or Boost Charger with NVDCPower Management and USB OTG for 2 Cells in Series Batteries Evaluation Board
MP2762A I2C Evaluation GUI
The MP276A is highly customizable. Users can configure the MP2762A via the downloadable I2C GUI.
EVKT-USBI2C-02
Communication Interface Device USB to I2C/PMBus, included with product evaluation kit or can be purchased separately.