Description
The MP2636 is a highly-integrated, flexible switch-mode battery charger with system power path management, designed for single-cell Li-ion or Li-Polymer batteries used in a wide range of portable applications. The MP2636 can operate in both charge mode and boost mode to allow full system management and battery power management. When input power is present, the device operates in charge mode. It automatically detects the battery voltage and charges the battery in three phases: trickle current, constant current and constant voltage. Other features include charge termination and auto-recharge. This device also integrates both input current limit and input voltage regulation in order to manage input power and meet the priority of the system power demand. In the absence of an input source, the MP2636 switches to boost mode through the MODE pin to power the SYS pins from the battery. The OLIM pin programs the output current limit in boost mode. The MP2636 also allows an output short circuit protection to completely disconnect the battery from the load in the event of a short circuit fault. Normal operation will recover as soon as the short circuit fault is removed. The MP2636 provides full operating status indication to distinguish charge mode from boost mode. In addition, the MP2636 can report the real battery current in both charge and boost mode via IB pin. The MP2636 achieves good EMI/EMC performance with well controlled switching edges. To guarantee safe operation, the MP2636
Show more

Show less
Features & Benefits
Up to 16V Sustainable Input Voltage
4.5V-to-6V Operation Voltage Range
Power Management Function, Integrated Input-Current Limit, Input Voltage Regulation
Up to 3.0A Programmable Charge Current
Trickle-Charge Function
Analog Voltage Output IB pin for Battery Current Monitor
Selectable 4.2V / 4.3V / 4.35V Charge Voltage with 0.5% Accuracy
Negative Temperature Coefficient Pin for Temperature Monitoring
Programmable Timer Back-up Protection
Thermal Regulation and Thermal Shutdown
Internal Battery Reverse Leakage Blocking
Integrated Over Current Protection and Over Voltage Protection for Pass-through Path
Reverse Boost Operation Mode for System Power
Up to 3.0A Programmable Output Current Limit for Boost Mode
Integrated Short Circuit Protection and Output Over Voltage Protection for Boost Mode
Show more
Show less

Active Part Numbers:
MP2636GR-P MP2636GR-Z
Part numbers ending in P and Z are the same parts. P and Z only indicates reel size.
Meaning of P & Z

Evaluation Tools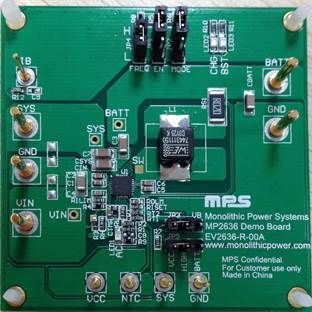 EV2636-R-00A Evaluation Kit Full Power Management IC For Single-Cell Battery System
The EV2636-R-00A is the evaluation board designed to demonstrate the capabilities of MPS's MP2636, a highly integrated, flexible, switch-mode battery charge management and system power path management device for a single-cell Li-ion and Li-Polymer battery used in a wide range of portable applications.
The EV2636 uses two operating modes, charge mode and boost mode, to allow management of system and battery power based on the state of the input. When input power is present, the board charges a single-cell battery with a programmable charge current of up to 2.5A. In the absence of an input source, the board switches to boost mode through the MODE pin to power the SYS pins from the battery with a current of up to 2.5A
The evaluation board provides full operating status indicators to distinguish charge mode from boost mode.
To guarantee safe operation, the EV2636 has input over voltage protection, battery over-voltage protection, thermal shutdown, battery temperature monitoring, and a programmable timer to prevent prolonged charging of a dead battery.