Automotive Grade. 5.5V, 2A Low RDSON Load Switch with Programmable Current Limit
Description
The MPQ5073 is a load switch to provide 2A load protection covering 0.5V to 5.5V voltage range. With the small RDSON in tiny packages, MPQ5073 provides very high efficient and space saving solution in notebook and tablet or other portable devices application. With the soft start function, the MPQ5073 can avoid inrush current during circuit start up. MPQ5073 also provides programmable soft start time, output discharge functions, OCP and thermal shutdown features. The max load at the output (source) is current limited. This is accomplished by utilizing a sense FET topology. The magnitude of the current limit is controlled by an external resistor from the ILIM pin to ground. An internal charge pump drives the gate of the power device, allowing a very low on-resistance DMOS power FET of just 50mO. Tiny QFN-12 (2mmx2mm) of MPQ5073 is available in space saving package.
Show more

Show less
Features & Benefits
Guaranteed Industrial/Automotive Temp Range Limits
Large VIN Range from 0.5V to 5.5V
<5µA Shutdown Current
Integrated 50mΩ Low RDSON FETs
Typical 2A Load Current Range
Push Pull PG Indicator
Adjustable Start Up Slew Rate
Output discharge function
<200ns Short-Circuitry Response Protection
Thermal Protection
Small QFN-12 (2mmx2mm) Package for Space Saving
Available in AEC-Q100 Qualified Grade
Show more
Show less

Active Part Numbers:
MPQ5073GG-P MPQ5073GG-Z MPQ5073GG-AEC1-P MPQ5073GG-AEC1-Z
Evaluation Tools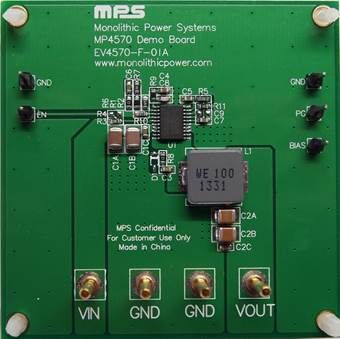 EV4570-F-01A Evaluation Kit 3A, 55V, Frequency-Programmable Step-Down Converter Evaluation Board
The EV4570-F-01A is an evaluation board for the MP4570/MPQ4570, a frequency-programmable, step-down switching converter with integrated internal high-side and low side power MOSFETs. It can provide 3A of continuous output current with peak current control mode for excellent transient response and efficiency performance.
The wide 4.5V to 55V input voltage range accommodates a variety of step-down applications, including industrial, PoE, and automotive applications, as well as printers with a DC high-voltage bus.
Valley current detection is used to avoid current runaway during over-current protection. It also has accurate and reliable over-voltage protection, and auto-recovery thermal protection. In addition, the optional external soft start is available. The enable and power good indication functions can be used to track power easily. In order to increase efficiency, the MP4570/MPQ4570 automatically scales down the switching frequency at light loads. Meanwhile, the low-side MOSFET turns off to reduce driver loss when zero inductor current is detected. Synchronous operation mode with the integrated low-side MOSFET helps reduce the conduction loss, external components, and saves space and cost.
The MP4570/MPQ4570 is available in a TSSOP-20EP package with an exposed pad.