Description
The MP4034 is an offline regulator that provides accurate constant-current regulation. The LED driver circuit design is simplified by removing the optocoupler and the secondary feedback components. The MP4034 has an integrated 700V MOSFET. Its variable off-time control allows a flyback converter to operate in discontinuous conduction mode (DCM). The MP4034 also features complete protection functions such as VCC under-voltage lockout, over-voltage protection, over-temperature protection, and open-loop protection. The MP4034's variable switching frequency provides natural spectrum shaping to smooth the EMI signature, which can reduce the EMI filter's size and cost.
Show more

Show less
Features & Benefits
Primary-Side–Control without Optocoupler or Secondary Feedback Circuit
Precise Constant Current Regulation
Integrated 700V MOSFET with Minimal External Components
Variable Off-Time and Peak-Current Control
550µA High-Voltage Current Source
Up to 7W Output Power
Over-Voltage Protection
Over-Temperature Protection
Open-Loop Protection
Natural Frequency Dithering for Improved EMI Signature
Low Cost and Simple External circuit
SOIC8-7A Package
Show more
Show less

Active Part Numbers:
MP4034GS-P MP4034GS-Z
Part numbers ending in P and Z are the same parts. P and Z only indicates reel size.
Meaning of P & Z

Evaluation Tools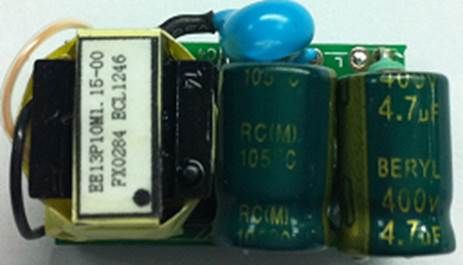 8EV4034-S-00A Evaluation Kit 5VAC-265VAC/50Hz, 40V/130mA Primary-Side-Controlled, Offline, LED Driver Evaluation Board
The EV4034-S-00A Evaluation Board demonstrates the capabilities of the MP4034: a primary-side-controlled, offline, LED lighting controller that eliminates secondary feedback components.
The EV4034-S-00A typically drives a 5W LED string with a 40VTYP, 130mA LED load from 85VAC to 265VAC at 50Hz.
The EV4034-S-00A has excellent efficiency and meets IEC61547 surge immunity and EN55015-conducted EMI requirements. It has multiple protections, including open-circuit protection, short-circuit protection, a cycle-by-cycle current limit, and over-temperature protection.
EV4034-S-00B
85VAC-265VAC/50Hz, 10V/350mA Primary-Side-Controlled, Offline, LED Driver Evaluation Board
EV4034-S-00C
85VAC-265VAC/50Hz, 40V/150mA Non-Isolation Off-line LED Driver Evaluation Board
EV4034-S-00D
85VAC-265VAC/50Hz, 10V/350mA Non-Isolation Off-line LED Driver Evaluation Board