18V 10A Step-Down Power Module in 12x12x4mm QFN
Description
The MPM3682 is an easy-to-use fully integrated 10A step-down DC/DC power module. It integrates the DC/DC converter, power inductor, input/output capacitors and the necessary resistors/capacitors in a compact QFN 12mmX12mmX4mm package. This total power solution needs as few as two external components (one resistor and one capacitor) to work. MPM3682 can deliver 10A output current over a wide input supply voltage range with excellent load and line regulation. The MPM3682 uses Constant-On-Time (COT) control to provide fast transient response and ease the loop stabilization. The default under voltage lockout threshold is internally set around 4.1V, but a resistor network on the enable pin can increase this threshold. The MPM3682 has an internal LDO to power the control circuits and the integrated power devices. This LDO can be disabled by an external 5V to boost the efficiency. The MPM3682 has an internal about 3ms soft start (SS) timer. It can be increased with an extra SS capacitor. An open drain power good signal indicates that the output voltage is within nominal voltage range. The MPM3682 has fully integrated protection features that include over-current protection, over-voltage protection and thermal shutdown.
Show more

Show less
Features & Benefits
Complete 10A DC-to-DC Solution
Wide Input Voltage Range from 2.5V:
-- 2.5V to 18V with External 5V Bias
-- 4.5V to 18V with Internal Bias
1% Reference Voltage Over 0°C to 70°C Junction Temperature Range
Adaptive COT Control for Ultrafast Transient Response
Programmable Switching Frequency from 200KHz to 1MHz
Support Pre-Bias Start Up
Programmable Soft-Start Time with Default 3ms
Non-latch OCP, OVP and Thermal Shutdown
Output Adjustable from 0.65V to 5V
QFN-57 (12mm x 12mm x 4mm) package
Show more
Show less

Evaluation Tools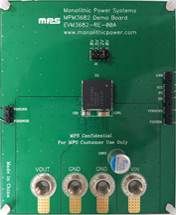 EVM3682-RE-00A Evaluation Kit 18V 10A Step-Down Power Module Evaluation Board
The EVM3682-RE-00A is used for demonstrating the performance of MPS' MPM3682, a 10A step-down power module with built-in power MOSFETs and power inductor.
High power efficiency over a wide load range is achieved by scaling down the switching frequency at light load to reduce the switching related loss by constant on time control. Over-Current-Protection, Over-Voltage Protection, Under-Voltage Protection, and thermal shutdown provide reliable operation.
MPM3682 is available in QFN 12x12x4mm package.