Isolated Gate Drivers Use Case: Portable Power Stations

Get valuable resources straight to your inbox - sent out once per month
We value your privacy
In this use case, we'll consider the application of isolated gate drivers in portable power stations.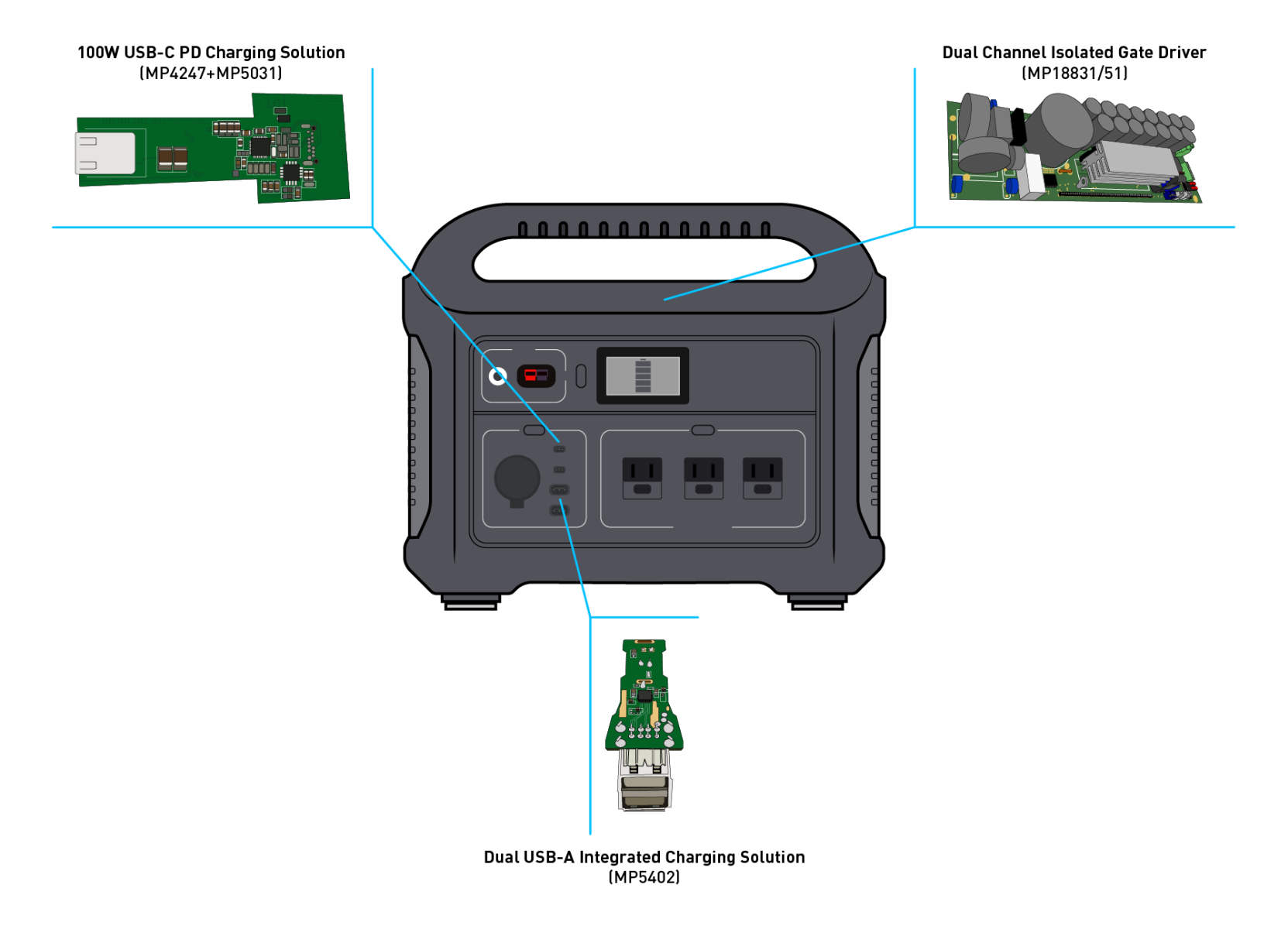 The isolated gate driver enables the charging module and inverter to be combined, which helps shrink the size of these portable power stations.
Portable power stations are becoming more and more common as lithium batteries continue to get cheaper and cheaper. For years, people have been using small portable battery packs for smart phones, but as battery costs have scaled, portable energy storage units have been able to continually increase in size. These portable power stations range in 150Wh up to 1000Wh or more and can provide reliable power in the great outdoors or even as a backup power source at home during emergency situations. They can be used to charge a smart phone 10's of times, while also powering a laptop and a wide range of small appliances. With a myriad of ports such as USB-A, USB-C, wall outlets, or even car sockets, these can be used to power all electronics. As these energy storage units are becoming more sophisticated, isolated gate drivers are being used to enable features such as bidirectional current flow, making the solution smaller, and providing isolation to make these products safer for consumers.
MPS's MP188xx family of isolated gate drivers help engineers create designs with integrated inverters that enable these batteries to charge directly from a wall outlet (AC to DC conversion), and also allows these batteries to be used to power small appliances directly (DC to AC conversion). The isolated gate driver enables the charging module and inverter to be combined, which helps shrink the size of these energy storage units to make them more portable. The MP188xx family of products provides isolation up to 5kVRMS, a common mode transient immunity spec >100kV/µs, and a wide driver bias range from 6.5V-30V to enable more flexibility to use SiC or GaN to maximize efficiency.
Isolation spec up to 5kVRMS

Driver bias range from 6.5V-30V

4A source/8A sink peak current output

CMTI: 100V/ns (min)

UL1577 recognized – up to 5k Vrms for 1 minute
With a wide range of power storage capacities, there are several battery pack configurations. MPS has several DCDC power solutions that can support designs with a 3S-13S configuration battery packs, which require an input range as low as 11V and as high as 47V. MPS offers a wide range of input buck controllers, such as the MP9928, with an input voltage range of 4V-60V and a maximum duty cycle of 99.5% for single phase designs of up to 50W and 100W+ with a multiphase design.
MP9928 4V-60V Current Mode Buck Controller:
Vin range: 4V-60V, Vout range: 0.8V to 24V

180° out-of-phase SYNCO pin

Adjustable frequency 100kHz-1MHz

Small QFN-20 3x4mm package
MPS's MP4247 + MP5031 is total solution for USB PD that can provide up to 100W PD power. The MP4247 is a Hybrid buck-boost converter with great thermal distribution, and can work with an external USB PD controller via the I2C interface. The MP5031 is a USB PD controller that supports up to 100W PD and PPS to help enable very fast charging speeds. The MP5031's backward compatibility supports DCP schemes for QC 3.0, FCP, BC1.2, Apple divider 3 mode, and 1.2V/1.2V mode without outside user interaction. This provides a flexible and configurable solution to design convenient and thermally optimized USB C/USB A charge ports for use throughout the product.
MP4247 Hybrid Buck-Boost Converter:
Vin Range: 3.4V-35V

Supports 60W/100W PD ports

I2C interface for Vout/Ilim adjustment

2 external MOSFET's to enable optimized thermal performance

200kHz/420kHz/600kHz selectable frequency