Highly Integrated Battery Charger IC Use Case: Robotic Vacuums

Get valuable resources straight to your inbox - sent out once per month
We value your privacy
In this use case, we'll consider the application of fully integrated switching charger ICs in robotic vacuums.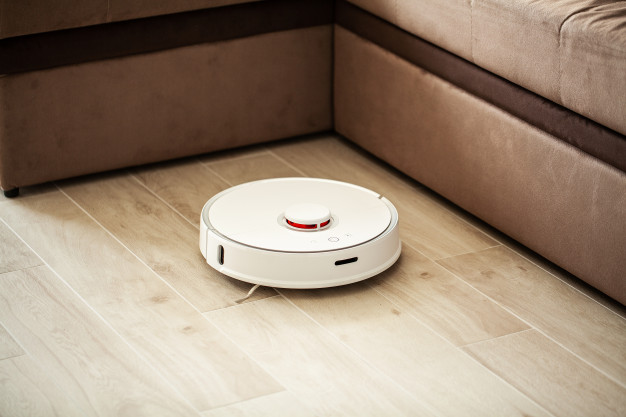 Robotic vacuums need multi-cell battery chargers for power. Since the market is extremely cost-sensitive, some designs do not use a dedicated charger IC, but create their own discrete solution with an MCU and external components.
The MP2759 is a highly integrated switching charger designed for charging applications with 1-cell to 6-cell series Li-ion, Li-polymer, and LiFePO4 battery packs. This IC integrates three power MOSFETs — plus analog control circuits — into a 3mmx3mm package, and can operate reliably and safely with very few external components.
In traditional discrete solutions, designers need at least two power MOSFETs for the charger's DC/DC converter: one power MOSFET to prevent battery power from flowing back to the input, and another MOSFET if power path functionality from the battery is needed. Control loops that include sensing circuits, compensating circuits, PWM generators, and drivers are essential. Furthermore, the system needs circuits that offer protection, indications for the input source or any changes in operating conditions, and other functions.
These discrete components result in a complicated design process, lack of charging programmability, decreased charging accuracy, and large board size.
Using the MP2759 charging solution allows the following advantages:
Requires no software involvement: This means it is an autonomous charging solution that requires no MCU code and less time building and validating.

Smaller inductor: A low switching frequency requires a large inductor. The MP2759 has a higher switching frequency (up to 700kHz) that reduces the inductor size. In addition, integrated FETs create a much smaller solution size.

Faster charging. An existing MCU solution takes a lot longer to charge because low efficiency requires the current to be lower. Since the MP2759 integrates low-RDS(ON) MOSFETs, it can support higher charge currents with excellent thermals.

Higher accuracy: Discrete MCU-based charging solutions suffer from poor current and voltage regulation accuracy. In order to get the maximum capacity into a battery, it is crucial to charge it to the full voltage (e.g. 4.2V per cell), but not above this to avoid safety issues. The MP2759's high-accuracy current and 0.5% voltage regulation means the battery charges faster and safer to a higher capacity, allowing the robotic vacuum to get back to cleaning sooner and operate longer on each charge.
Additional features include:
Programmable Input Current Limit Regulation

Programmable Battery Charging Temperature Range

Battery Thermal Monitor and Protection with JEITA Profile

Up to 36V Operation Input Voltage and 40V Protection

Up to 3A Programmable Charge Current

Up to 6 Cell Series with 3.6V/4.0V/4.1V/4.15V/4.2V/4.35V/4.4V Battery Regulation Voltage for Each Cell

Input Minimum Voltage Regulation for MPPT

Support OR Selection Power-Path Management to Allow Instant-On with a Low Battery

0.5% Battery Regulation Voltage Accuracy

450kHz or 700kHz Switching Frequency

Integrated Reverse Blocking FET and Buck Switching FETs

Internal Loop Compensation

Charge Operation Indicator

Input Status Indicator

Battery Over-Voltage Protection

Charging Safety Timer

Die Over-Temperature Protection