Current Sensor Use Case: Smart Light Dimmers

Get valuable resources straight to your inbox - sent out once per month
We value your privacy
In this use case, we'll consider our highly integrated current sensors in smart lighting dimmer controls.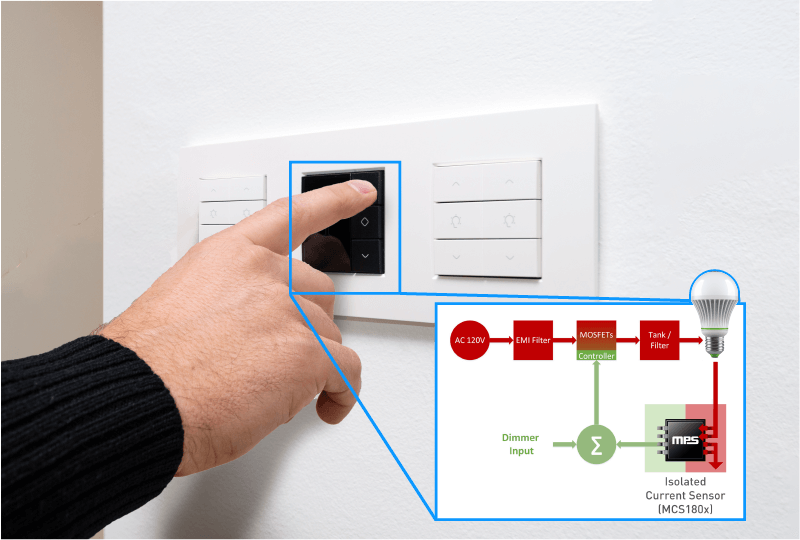 Intuitive, smart home controls are in high demand as more and more consumers desire products that are energy efficient. Smart home lighting has the ability to detect a person's presence and sense the level of light in the room, so it can adjust the lights to preset preferences. The ability to automatically turn lights on and off reduces overall energy consumption. Smart lighting controls require current sensors to measure the amount of electricity flowing through the circuit by measuring the magnetic field to detect the current. However, traditional shunt solutions can be complicated to design as they require an isolated amplifier and kelvin connections, creating a larger solution footprint.
MPS's MCS18xx current sensor series replace the traditional solutions with a single IC direct sensing solution.
MPS's MCS18xx current sensor series replace the traditional solutions with a single IC solution. These sensors provide a wide sensing range from ±5A to ±50A, feature an extremely low 0.9mΩ primary conductor resistance for thermal and power efficiency, and include 2200V isolation, resulting in the smallest isolated solution footprint. These isolated, bi-directional Hall Effect linear current sensors for AC or DC current sensing maximize efficiency making them ideal for applications such as smart lighting dimmer controls
Direct Sensing in Industry-standard 8-pin SOIC package

Wide sensing range from ±5A to ±50A

Low 0.9 mΩ primary conductor resistance

2200V isolation