22V, 2A, Three-Phase Power Stage with HS and LS Inputs
Description
The MP6543H family of products (MP6543H, MP6543H-A, and MP6543H-B) are three-phase brushless DC motor drivers. They integrate three half-bridges, consisting of six N-channel power MOSFETs, as well as pre-drivers, gate drive power supplies, and current-sense amplifiers.
The MP6543H has enable (EN) and PWM inputs for each half-bridge. The MP6543H-A has separate high-side (HS) and low-side (LS) inputs, while the MP6543H-B has Hall-effect sensor inputs. Otherwise, these three devices are similar. References to the MP6543H in this document apply to the MP6543H-A and MP6543H-B, unless otherwise noted.
The MP6543H delivers up to 2A of continuous current (depending on thermal and PCB conditions) with an adjustable over-current protection (OCP) threshold. It uses an internal charge pump to generate the gate drive supply voltage for the high-side MOSFETs, and a trickle charge circuit to maintain a sufficient gate drive voltage to operate at 100% duty cycle.
Internal safety features include thermal shutdown, under-voltage lockout (UVLO), and over-current protection (OCP).
The MP6543H is available in a QFN-24 (3mmx4mm) package with an exposed thermal pad.
Advantages Include:
Wide 3V to 22V input voltage range to cover different applications
Integrated bidirectional current-sense amplifiers lower the solution cost
UVLO, thermal shutdown, OCP and programmable threshold ensure safety for downstream devices
Show more

Show less
Features & Benefits
3V to 22V Operating Supply Voltage
Three Integrated Half-Bridge Drivers
2A Continuous Output Current
MOSFET On Resistance: 110mΩ per FET
MP6543H: PWM & ENBL Inputs
MP6543H-A: HS & LS Inputs
MP6543H-B: Hall-Element Inputs
Built-In 3.3V, 100mA LDO Regulator and Internal Charge Pump for 100% Duty Cycle
Integrated Bidirectional Current-Sense Amplifier
Automatic Synchronous Rectification and UVLO, Thermal Shutdown, OCP
Show more
Show less

Evaluation Tools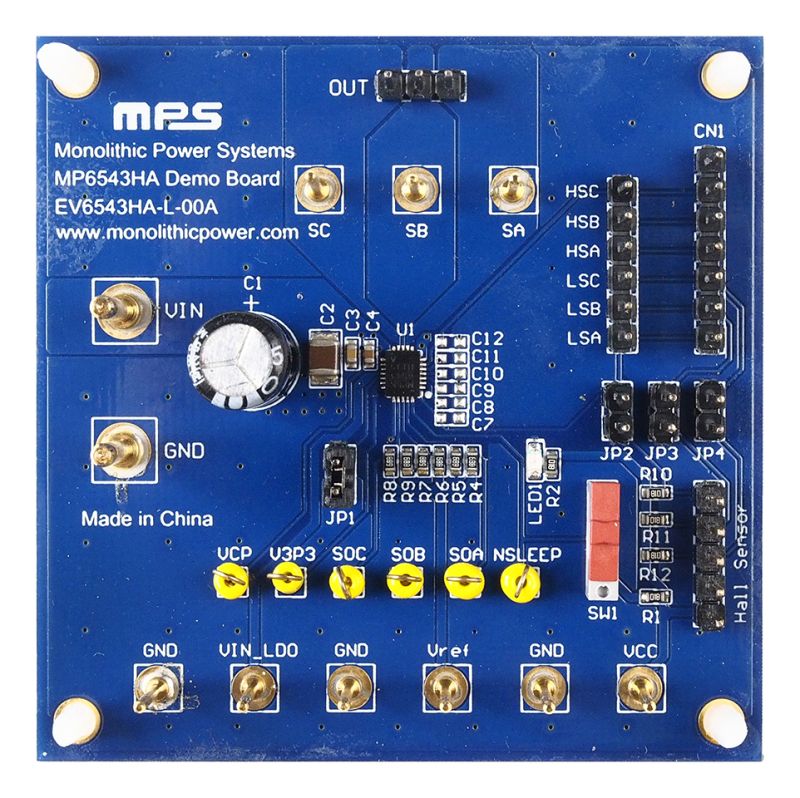 EV6543HA-L-00A Evaluation Kit 3V to 22V, Three-Phase Brushless DC Motor Driver Evaluation Board
The EV6543HA-L-00A is an evaluation board for the MP6543HGL-A, a three-phase brushless DC motor driver.
The EV6543HA-L-00A operates from a maximum 22V supply voltage. It integrates three half-bridges consisting of six N-channel power MOSFETs. The rotor position information is provided by the Hall sensors assembled in the motor, and the driving control signals are generated by an external controller, such as an MCU or FPGA.