Internship at MPS
Internships at MPS
As the demand for highly efficient, high density, miniature power solutions increases, MPS is focused on transforming power electronics design for electrical vehicles, robots, large battery package, data centers, automotive and industrial applications with memory-based programmable plug-n-play products. As an intern at MPS, you can be part of building the next generation power management solution that will make a big difference across various industries. Our internship program provides the perfect opportunity for you to explore our collaborative culture and be part of an industry leading team focused on developing the next groundbreaking programmable miniature power solution.
Work alongside a mentor who will foster your curiosity and build a launchpad for a rewarding career in technology.
Speak with customers to understand how they use our products and help them get the most out of our cutting-edge solution.
Develop engineering skills along with time-management and project management skills that will help you succeed.
Apply Now
What Does an MPS intern do?
As an MPS intern you must be prepared to work in the lab all day. Your everyday tasks may include
Validate power integrated circuits to meet the customer's specifications.
Prepare hardware and software setups, together with our hardware & simulation team, to be able to measure all required parameters of our IC.
Develop schematic and PCB to for new solutions.
Develop device modeling.
Work with IC design team to debug and troubleshooting the device under test.
Design and verify sub-circuits to meet product specifications.
Attend design reviews to learn and to provide inputs for other designers.
Report on design reviews and establish action items as a result of these reviews.
Generate documentation and reports with all performed test.
What Does MPS Offer?
Gain hands on experience working on real-time projects for MPS customers under the guidance of your mentor, and present your designs / reports to senior leaders.
Work with the industry's leading senior field application engineers and learn everything you need to start a successful career in power electronics industry.
Interact with our customers from various industries and help them design boards to meet their needs.
Enjoy a fully Paid internship including room*, board, and company sponsored fun events on and off campus.
Network with employees from various departments at the many social events like summer barbeques, etc.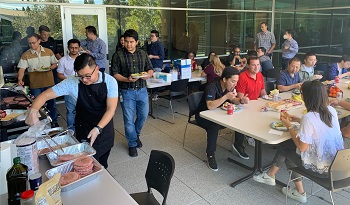 Interns at summer barbeque with MPS employees
MPS Interns at work.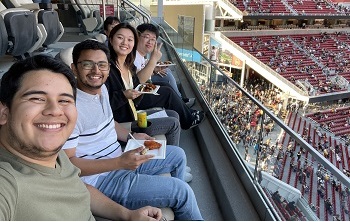 MPS Interns enjoying a game at the MPS Suite - Levi's stadium.
Our Recruitment Process
Applications review dates -> Telephone Interview -> Video Interview with hiring manager -> Offer
Our waitlist of 2023 summer internship is currently open. Apply now to receive a notification when applications are due.
Our Glassdoor Review
* For candidates who are not local to the internship location.